As you may guessed I started to work on MAC platform with the idea of releasing many of the popular software as native MAC apps.
Instead of just porting windows apps, the idea is to actually improve on the applications and avoid dragging any bad designs or decisions from windows code.
This means the applications will also look different to maximize the interface potential of each platform. It is a bit nonstandard approach but one that is build for long term benefit.
A first example is
ReVitalize
application. It takes DPHDR/ReDynamix pseudo HDR process and encapsulates it in a native MAC version , where the GUI is different than any of its windows counterparts. But because I think my windows controls such as dial, ball and graphs are rather unique and sort of "signature" so I rewrote them completely in native MAC code.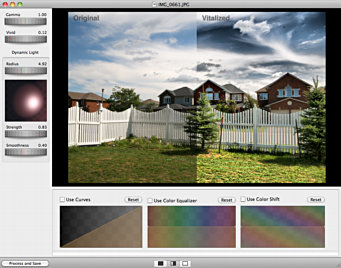 This is all just beginning and I am also working as a sideway on DAP MAC version.
The MAC now offers unique distribution method with the APP Store which may very well be a small preview of things to come in the future to all platforms as unlikely as it seems now.
Another part of the same equation is the IOS part. Because the differences from OSX are pretty minimal (at least from a Windows developer point of view), it is a good platform to test new ideas even that the huge amount of released applications works now against developers. For few days when the app is featured on first page as new all is rosy. In few days the stream of new apps will push yours towards bottom and out of the first page - and that is mostly all the time a normal app got to capture majority of sales. Once it is out of first page it is a race towards bottom. Pretty weird eh?
Here you can see interface using the same "signature" controls on iPad on the
DynaLight HD
application.
This also shows my major gripe with this "central" distribution method. As a fast coder I am actually few versions ahead of what is released in app store. The update for my iPhone app has not yet been approved and I already have another new version.... so right now I am two versions ahead.
Here is a screenshot of the same for iPhone called
Dynamic Light
:
DPHDR users should feel somehow familiar with those screenshots. The graphics on interface is from my
Flexaret
(TLR camera) my father gave me many years ago and it gots its way to Canada.
I also made DAP core working on MAC 9there is no interface, but the hard part is done)